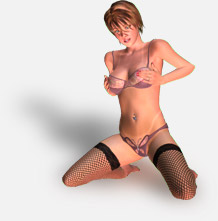 INTERACTIVE
3D SEX GAMES
3D SEXVILLA 2.0 - EVERLUST

FUCK HORNY CYBER BABES
Be part of the act!
Check out the hottest cyber sex game in the world and experience real-time breathtaking 3D hardcore virtual sex! More than Flash or passive video clips, 3D SexVilla 2 is a real-time adult only interactive 3D sex simulation role playing game. It's like actually being there and being part of the action!
3D SexVilla is a stimulating virtual sex simulation, with tons of content, sexy models, hot locations, outrageous poses, cool outfits, and sex toys.
Download the hottest adult game ever right now to play for FREE, and dive directly into interactive sex adventures, where you direct and control all the action!
HOT VIRTUAL SEX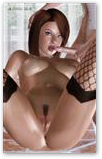 3D SexVilla, is the world's premier animated hardcore sex simulation cyber game for PCs. It allows you to customize and role play with the sexiest avatars, create your own porn, and have intimate or kinky videogame fun you cannot experience in any other video game anywhere!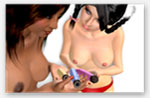 You control multiple characters, how they pose and act, determining what they do, and fulfill any fantasy you can imagine. Lifelike sex action controlled from your PC's keyboard and mouse lets you have sex anyway you want!

UNLIMITED SEX POSITIONS

Choose interactive softcore and hardcore sex poses and let the action play out before your eyes in wild HD quality. Licking, blow job, 69, riding, doggy, threesome, masturbate, missionary, anal, girl-guy, girl-girl, solo,... the combinations are endless.
SEXY VIRTUAL WORLDS
Select from exquisitely appointed and detailed virtual environments! Reality scenes include bedroom, loft, bathroom, pool, beach, park, campground, office, gym, barn, garage, yacht, or private jet! Fetish rooms include fucking machines, bondage devices, locker room, showers, and other freaky fetish exclusives. Fantasy scenes include medieval, baroque palace, ruins, pirate ship or space station.
THE SEXIEST MODELS

Play with hot and horny cyber-girls from all over the world. These babes are ready and waiting to please you 24/7! Your idealized sexy playmates can be undressed, teased, and fucked! Designed to be personalized, every aspect of their appearance and how they act can be customized, from girl-next-door to creating a hardcore bitch.
MIND BLOWING SEX GAMES TECHNOLOGY!

Fully interactive sex toys are at your finger tips! Vibes, dildos, everyday items like vegetables and power tools! Create pleasure and pain with whips, chains and cuffs. Watch as skin reacts to whipping action and models squirm and feel the pleasure or pain of inserting anything you can imagine into anywhere you can fathom.

UNLIMITED & UNCENSORED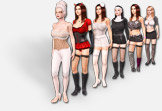 CREATE & RECORD
FANTASIES

Create your dream girl!
Make your own porn!
Choose from a huge selection of digital beauties or create the sex mate of your dreams...
These virtual girls are always horny and willing to make you cum!

By adding "SexPacks" you can create the personalized porn of your dreams, suited exactly to your personal tastes and fantasies, with an insane number of customization options accessible anytime.
If the existing content isn't to your taste you can create your own hot sex poses, outfits, sex toys, sequences and much more...
CREATE YOUR PERSONAL DREAM GIRL!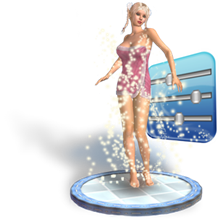 Customize tits, pussy, cock, hair, voice, & makeup... Hundreds of in-game controls allow fine tuning of every aspect of the sexy in-game avatars appearance. Control sliders for age, race, and gender, body tuning controls for breast size, shape, nipples, ass, pussy, penises, piercings & tattoos to create the perfectly featured sex mates! Select outfits, hairstyles, make-up with every little detail being fully customizable. Create the dream girl you always wanted to fuck!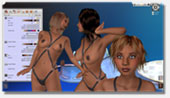 TEXTURES
Combine, coordinate and colorize outfits and textures endlessly to create the perfect looks! Texture 'modding' capabilities allow the creation of virtually any kind of outfit or sexy playwear imaginable! Even modify skin tones, muscles and body parts like pussy lips, and dicks.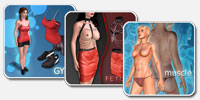 TRY NEW POSITIONS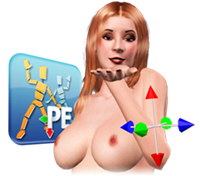 With 'Pose Editor' you can create and derive thousands more of your very own poses, solo to threesomes! The editor specially designed for sex is the only full blown 'user-friendly' sex pose editor in the world, letting an average gamer become a sex animation expert.


SCREENSHOTS & MOVIE RECORDING

In game camera's capture screen shots and real-time movie recordings. Create previews, instant replays, from first and third person perspectives. Movies can be exported using installed codecs and saved to your hard drive for machinima mayhem!
ADVANCED SCRIPTING & MOVIE EDITING!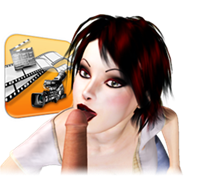 Create the porn you want, the way you want it with the ultimate tool for 3D movie making! Sequencer is a simple in-game tool to set up sex role play scenes using a timeline. The sequencer includes camera controls, text titling, audio, special effects and interactive multiple branching tree menus for extreme create-your-own storytelling.


TOY EDITOR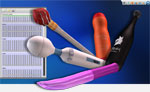 Need a special toy? The interactive sex toy editor lets the creative minded mod and texture and create custom dildos, vibes, bottles, lollipops, salami's, anything you can imagine sticky into body cavity or orifice. Your imagination is the only limit!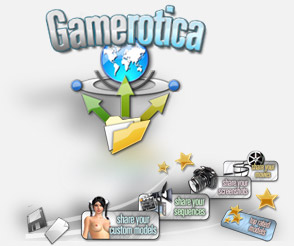 GAMEROTICA
USER GENERATED
CONTENT COMMUNITY

Access more
of 100,000 items
Downloading 3D SexVilla 2 automatically creates a free account to Gamerotica, with access to screenshots, video clips and discussion forums.

With the community sex pack connector you get unlimited access to downloads hundreds of thousands of user generated content items: models, poses, sequences, textures, toys,... Community content exponentially expands RPG game play options and provides hundreds of hours of adult only videogame entertainment!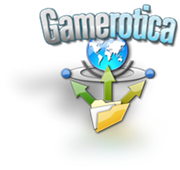 Gamerotica lets you share and collect softcore or hardcore 3D porn. Preview other members models, and screenshots, watch content previews, or view game play highlights. Save favorites and organize your content collection online in your member profile. Vote and rank, post comments, and participate! ThriXXX's web 2.0 style member community areas advanced management system allows you to customize your sex in videogames experience with user generated bonus content!
Full Access Pass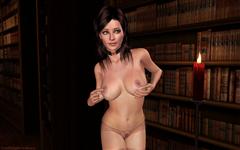 Free access to screenshots, video clips, and forums is included in the basic membership. A community 'connector' option grants unlimited access to ALL Gamerotica content & forum privileges, which is updated daily by other members so there is a never ending supply of new and fun content.
Trade Experiences!

Upload and download OTHER gamer's fantasies that they've created and shared. Explore the bizarre worlds of others imaginations and have experiences you never would have ever dreamed of yourself.
Get Ranked Hot or Not!

Shared content can be ranked by members to see what's the hottest and horniest content out there!
Earn Rewards and Credits!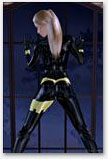 Rise from 'Newbie' to full fledged 'Porn Director' while earning achievement points and reward badges that acknowledge your skillfully crafted & most popular content contributions.
Make New Online Friends!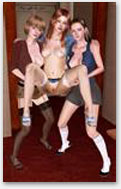 Gamerotica combines the worlds of video gaming, sex and social networking. 10's of thousands of SexVilla 2 users worldwide share tips and advice, and communicate with other like-minded real-people from all walks of life.
Adult sex game NEWS & Community Forums!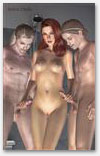 Stay informed about new product feature releases and what's going on in the virtual sex world. The Forums for posting comments to other users, and Wikis are great sources for learning and interacting with the games development team.

Updated day and night, the community is a true source for endless sex game content and activities!

Models
Virtual Hotties: 1000's of
Models to Choose From

Movies
Recorded Game Highlights
and Replays

Clothes
Sexy Exotic Playwear -
Lace to Latex

Sequences
User Scripted XXX
Fantasy Scenes

Toys
Custom SexToys for
Any Insertion Fetish

Poses
Find the Perfect Poses
for Your Fantasies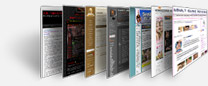 REVIEWS
Adult Game Reviews

"...the latest and greatest virtual sex game."

The Virtual Sex Review

"...the best 3D sex game available on the market."

Adult XXX Games

"There are a lot of cool adult simulations on the Internet to download. One of the best is 3D SexVilla 2, definitely."

TESTIMONIALS
Read what our customers
have to say about 3D SexVilla!
"Hello, I am an avide fan of the web site and love the game."
"I have to start by telling you folks that you have a GREAT product!"
"Helo! You have an incredible product!!!"
"Dear all, thanks first of all for the new beautiful scenery in the last update."
"First, you have a great idea here and a great program, excellent graphics and controls."

ADULT SEX GAME REVIEWS
adultsexgamereviews.com
"I didn't try every single option, there are so many that I didn't need to. Once playing this sex game you will love the interaction and flexibility of the game. It is entertaining, erotic and fun and 3D Sex Villa 2 is definitely one sex game that should be on your short list."
Rated 5 out of 5

ADULT XXX GAMES
adultxxxgames.eu
"3D SexVilla 2 offers a lot of advanced editors and easy to use creators. It allows to design own 3D models. Select one of pre-defined babes and change their look as you like. Virtual girl can look as the one from your sex dreams."

3DVSEX
3dvsex.com
"3D Sex Villa 2 is currently the best 3D virtual sex game around."

MMOVSG
mmovsg.net
"Compared to other games supporting virtual sex 3D SexVilla 2 is outstanding in this category, the possibilities for configuring and customizing this game and especially its sex actors are amazing, combining these customization options leads to long-term fun."

SEX GAME REVIEWS
"Other critics have cited 3D Sex Villa 2 as 'currently the best virtual 3D sex game around', and they may be right... "

BOARDBOSS
"Simply fantastic, quite unique, absolutely inimitable, extremely exciting, thrilling and truly awesome 3D Sex Games are waiting for you just one click away."

News


Valentines Special 2020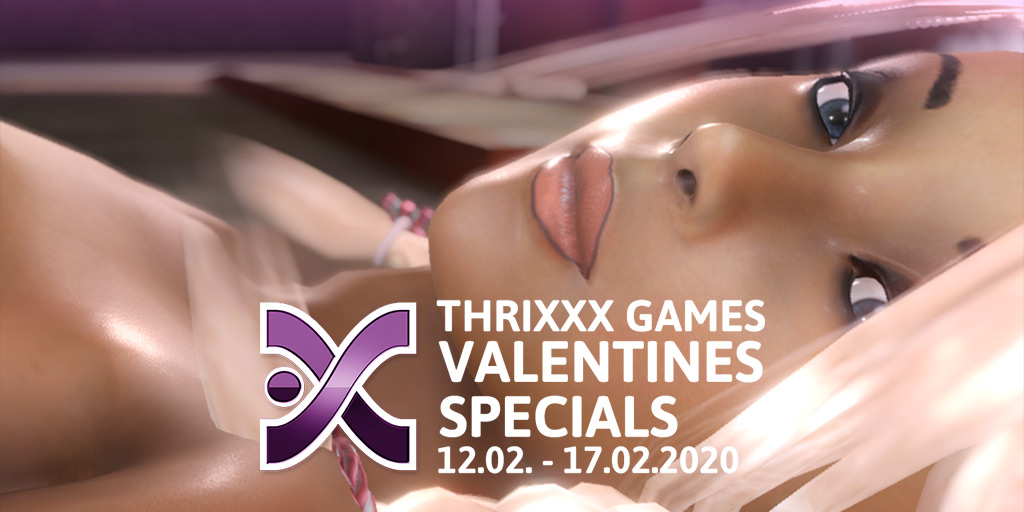 Valentines Day is right around the corner and we got some cool new features and content for you to celebrate the day with your loved ones. 
For everybody who doesn't have a present for their crush we give you 25% OFF on all gifts from the shop.
The widget for XFlowers got replaced by ThriXXX Collectables, which is now the place for all collectable items. We also added a new collectable XChocolates. You can also hide or show the widget on your profile page like with XFlowers.
You and your crush can now also set up your relationship status which is now also shown on your profile page.
Set up your relationship status here
The update features:
For the girls:
4 different types of tights and leggings
new pair of high heels
jeans dungarees 
knitted cropped pullover and a fur-collar jacket 
butterfly thong 
For the boys:
fitness shorts and training top
split shorts
scoop neck shirt with contrast pocket
cropped cotton pants
open button shirt with print
RoomEditor:
3 Different Types of chocolates and chocolate boxes
2 different serving plates for decoration
Community:
thriXXX Collectibles widget
XChocolates
Relationship status with optional user connection
Browse the Chathouse 3D Shop here and take a closer look at this brand new content!
We wish you a lot of fun and a happy Valentines Day!
Top